Eddy's Newsletter 2008
President's words

"Hard to start a business, maintain a business even harder"it's not an easy task for an enterprise runs 20 years. In the passing days, we survived from financial storm and epidemics like sarsaparilla, bird flu, etc. We believed that the Financial Tsunami is the proof of Eddy's Magic facing the third decade's challenges.
Since we can grow by a seed, perseveres the faith to changes unceasingly and turn the impossible to possible. This is the magic as well as the objective of Eddy's Magic. 2009 is surely an important year full of dangers and opportunities.
Promote toy fair in The twentieth anniversary of Eddy's Magic
Steps into Eddy's Magic the twentieth anniversary, the series of promotion activities in international expositions recognized the world biggest magic toy producer status.
We established the world's tiniest magic series launched with intelligence video vending machine.
We gain appreciation for being a pioneer in the industry. In addition, the Chinese magic set and the fool toy magic concept are jealous by the industry that prove Eddy's Magic establish the international standing once more in the past twenty years.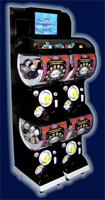 NAME OF THE COMPANIES