Eddy's Newsletter 2009
Message from the president :

The present financial crisis affects everyone whether they are large or small. We must all take steps to avert or, at least minimize, the affects it has upon us.After twenty years of steady growth we feel that we have sufficient experience to face these challenges and emerge stronger. We are fortunate in that our regular clients are loyal and we know that where possible they will stand by us.In return we are determined to move forward and with good management (and a little bit of magic) achieve new levels of excellence both in customer service and product quality.
Establish a Brand, No Worry about Challenge

At the Hong Kong Toy Fair we were hit, as were other exhibitors, by the economic downturn but we emerged unscathed and celebrated the 21st Anniversary of the Eddy Group in style.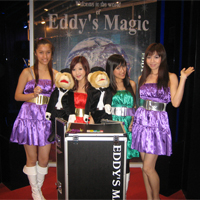 Eddy Entertainment Service The Link

Eddy International was chosen to arrange the annual dinner for the Link REIT (Real Estate Investment Trust) in mid February at Holiday Inn, Golden Mile, with Magic as its theme. The programmed included a live band, games, and a master of ceremonies and, of course, a dazzling performance of magic.
NAME OF THE COMPANIES